Building a Signal Panel
<- Back to exhibits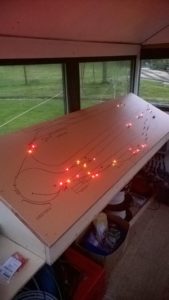 Building a New Signal Panel for a Miniature Railway
Initially a lot of planning and design work was done around the site and once the specification was finished work could start on the circuit design, digging conduit trenches and pulling in miles of cables and air lines. Initially this panel was supposed to be a temporary one while a digital design was completed but it has now been in use for 5 years and is likely to stay!

The track was split up into ten main sections each with it's own electrical circuit, the most complex was the station area show above. All the points are air operated with most of the signals LED and a few semaphore. All the points are interlocked with the signals to prevent accidental changes but there is always the human factor. Development work is currently ongoing with additional interlocks and train detection on the track.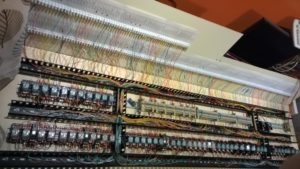 It was anticipated that changes would be made to the track layout in the future so to allow easy modifications and keep the costs minimal basic relays were used.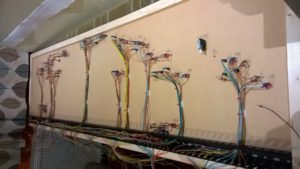 There are around 240 connections from the base of the panel up to the top control surface and 102 connections going in and out of the panel to the signals/points and remote controls. There are 22 signals currently on the system, 17 points and a level crossing gate on air control.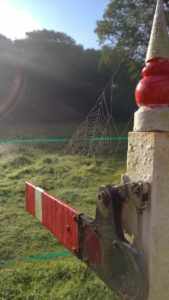 Comments