John Wilding 3/4 Second Hipp Clocks
<- Back to exhibits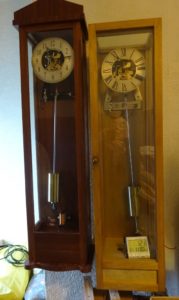 John Wilding 3/4 Second Hipp Clocks
These clocks are modelled on a John Wilding design.  With most clocks, the power is supplied by either weights or a spring; with the Hipp-toggle clock the pendulum provides the power, as well as regulating the clock.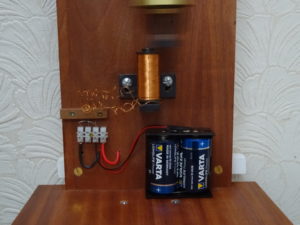 The power comes from a couple of 1.5V batteries, delivered via an electromagnet.
One deviation from the John Wilding design is the clock dials.  I couldn't decide if I preferred Roman or Arabic numerals, so drew up both on Autocad.  They were then photo-etched and delivered to me as etched brass sheets.  These were cut and filed to size, sprayed black for the numerals, polished back to brass, silvered and then lacquered.
The cases are to my own design.  They comprise a backboard and base, wall mounted, and a hood.  The hood can be removed for access.
These clocks can be noisy, so the backboards are19mm veneered MDF.  The hoods are composite – 12mm veneered MDF for quietness, with a ply outer for strength.  Veneer covers the ply.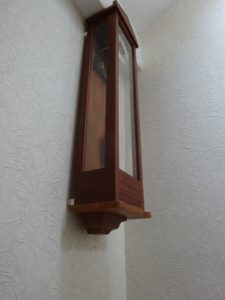 The cases have modest ornamentation – I didn't want them to be wholly plain, but I didn't want them to be too fussy either.  The result is a crest-board on top, with a pedestal underneath.  The bottom board is profiled so sharp edges are avoided.
I started out to make one clock, however my workmanship is so bad that I ended up making at least one additional of each component, so it seemed a waste not to make them into a second clock.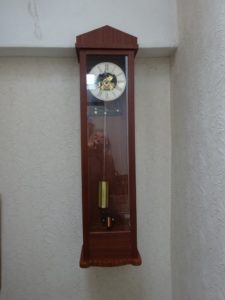 Comments