7 1/4″ Gauge DBS Litra HS
<- Back to exhibits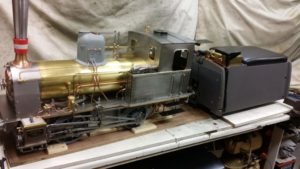 7 1/4″ Gauge DSB Litra HS
The locomotive is a 7¼" gauge model of a 0-4-0WT (WT denotes well tank) locomotive based on locomotive No. HS 385 now residing at the Middleton Railway Museum in Leeds.
The model is being built from scratch based on two drawings obtained from the Danish Railway Museum. The drawings were originally drawn in 1874 and revised in 1901. These drawings, which are drawn to 1/10 metric scale, show a plan, elevation and three sections. These have been reproduced to true 7¼" scale.
Construction of the model started February 2013. As no castings are available so the wheels have been machined from mild steel and the cylinders from cast iron blocks. The copper boiler has been fitted with a superheater and has been tested and certified to operate at 90 psi. The original boiler water feed was by two steam injectors but the model has been fitted with a water pump from the well tank, driven by an eccentric fitted to the front axle, to continually feed the boiler when in motion. There will also be a steam injector fitted.
Comments