O Gauge Old Gentleman's Saloon
<- Back to exhibits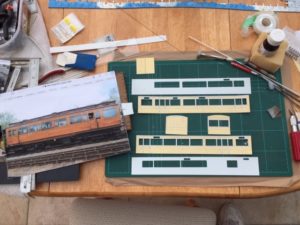 O Gauge Old Gentleman's Saloon
This is the start of an O gauge model of " The Old Gentleman's saloon" from the Railway Children film. Earlier this year a model company called Dapol issued a model of a Great Western pannier tank in the fictitious Great Northern & Southern Railway livery used in the film. Being one of the assistant station masters at Oakworth station I thought it might be a good idea to recreate the Old Gentleman's train with the loco and 3 coaches used, to display at the forthcoming 50th anniversary event in May 2021 hopefully. The actual anniversary is 2020 but for obvious reasons it's had to be postponed.
I obtained a kit to build the Metropolitan Railway 9 compartment 3rd and the NER 1st class 6 wheeler.
As no one does a kit for this coach it's being constructed from from scratch in Plasticard with a brass chassis. This is a new method of working for me and involves a lot of research including measuring and photographing the full size vehicles, fortunately they are available at Oxenhope or The Vintage Carriage Museum at Ingrow by arrangement.
Comments