Gravity Escapement Regulator Clock
<- Back to exhibits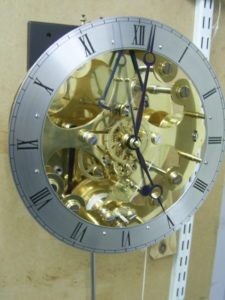 Gravity Escapement Regulator Clock
Another clock, this time a 4 leg Gravity Escapement Regulator Clock, based on the late Claude Reeve design originally published in the Model Engineer magazine in 1960.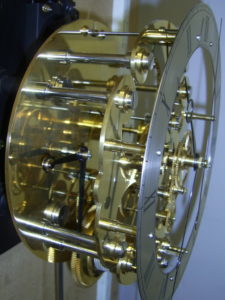 This clock is quite challenging to make in that the overall gear ratio between the driving force and the escapement is 5400:1 rather than the more usual 720:1 found in most clocks. This means that the power available to drive the escapement is only about one eighth that normally available which demands that the clock be very free running, accurately made and finely balanced if it is to work reliably.
As with most constructors, I have modified the original design to suit my own preferences. In particular I fitted precision ball races throughout, designed a more substantial English regulator style back plate and pendulum mounting, new pendulum temperature compensation and regulation arrangements, different maintaining works etc.
I also found it necessary to re-design the escapement. I made the first version "to the book" but found its operation to be unreliable, with the escape wheel failing to lock reliably and occasionally skipping past the locking pins. Articles from the authors of several subsequent versions indicated this seems to have been a common problem. I eventually located what I thought to be the problem in the original design layout. Once redesigned to correct the problem, I made a new set of escape arms which were fitted and, once properly adjusted, seem to work well.
Comments