7 1/4″ Gauge Quarry Hunslet
<- Back to exhibits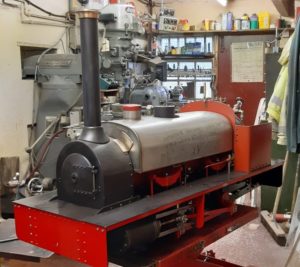 7 1/4″ Gauge Quarry Hunslet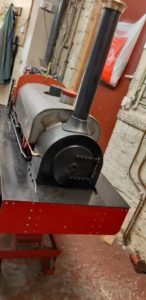 The very last train to San Fernando!!
This 7 1/4″ gauge Hunslet is a 4″ scale model of LILLA built circa 1890 for the Cilgwyn Quarry but is now still in operating condition for the Ffestiniog Railway.
This model was started by BMES member about 25 years ago. The completed chassis and castings were purchased at a later date by another BMES member but no further work was done until I purchased it in 2005.
I commenced work on it about 2008, the boiler is steel, built in my own workshop and welded by a very skilled retired professional boiler welder, fortunately I have a 3 phase electric supply. It has a club hydraulic certificate to 110 psi and also a commercial test to same value.
All paintwork below footplate is completed.
The engine is now ready to run and was expected to be steaming this summer, but a rather over rapid roofing exit, followed by covid, prevented this. Let's hope for better luck in 2020.
Ps the engine weighs approx 450kg wet.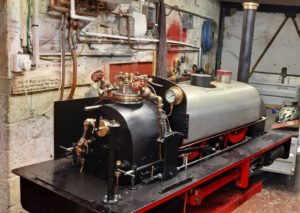 <- Back to exhibits
Comments