Crampton Loco
<- Back to exhibits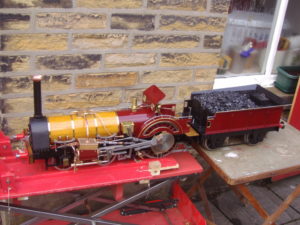 5" Gauge Crampton Locomotive
In the 1840s, when Thomas Crampton, who was a versatile engineer, was developing his designs for the steam locomotive, it was thought that a low centre of gravity (hence a low-slung boiler) and large, rear-mounted driving wheels (for speed and stability) were necessary for success.  At first, he designed some unusual-looking engines, but these evolved into what we now regard as the classic Crampton – four or six small carrying wheels beneath the boiler, and two driving wheels mounted behind the firebox.  There was relatively little weight on the driving wheels; to improve adhesion, it was found necessary to put cast iron weights beneath the cab footplate.
These engines were not very popular in Britain, where there were only 42 in use, mainly in the Kent area, but there were large numbers in regular use on the continent, especially in France and Germany, and smaller numbers in Denmark, New Zealand, North America and other countries.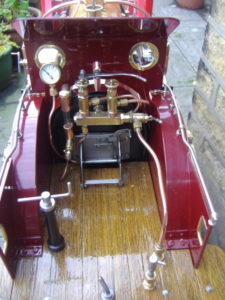 This 5" gauge locomotive, designed by Brian Arridge, does not represent any particular prototype, but is unmistakably a classic Crampton, with a single pair of large driving wheels set behind the boiler, and outside Stephenson's valve gear with large eccentrics.  The tender is of simple design, with coil springs above the axle-boxes.  The emergency hand-pump is hidden beneath the tool-chest.
The locomotive has leaf springs on the carrying wheels, and coil springs below the drivers.  The slide valves above the inclined port faces are operated by Stephenson gear with large eccentrics on the outer side of the driving wheels.  The front and rear flanged plates of the smokebox are identical apart from different apertures.
The copper boiler is a conventional locomotive type.  No superheating is provided, as the regulator valve is situated directly on top of the boiler.  There are seventeen 7/16 in. (o/d) tubes.  Some of the original Cramptons had boilers with an oval cross-section so that they could be placed lower inside the frames.
It was necessary to use three solders of different melting points and an epoxy adhesive in order to build up the splashers and apply the half-round beading to them and the cab side plates.
This engine had a successful steam test in September 2019.  It was intended to paint and complete it before the 2020 running season, but the Covid-19 lockdown delayed matters.  Reassembly after painting (my thanks to Ken Shipley for this) was not finished until October 2020.  It is hoped that steaming will take place sometime in 2021.
Room was found beneath the cab footplate for a 5lb lump of lead.  It will be interesting to see the effect of this on the loco's performance.
Comments