Society History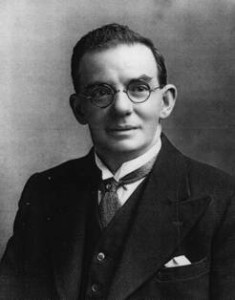 Mr. Amos Barber
The beginning of Bradford Model Engineering Society goes back to the 1900's or maybe even before, when a group of men from all walks of life met informally in one of the local coffee taverns to discuss the making of models. This new hobby appears to have waned a little as from 1904 we have no record until 1908 when some of the same men met again to constitute the society.
One of these men, Mr. Amos Barber along with Mr. Bickerdike, Mr. Ault, Mr. Cordingley and others were instrumental in forming the society. Mr Barber's magnificent models are on permanent display at Bradford Industrial Museum.
It is also on record that B.M.E.S is the fourth oldest model engineering society in the world.
There have been many wonderful milestones in the history of this society.
BELOW ARE SOME OF THE MAJOR DATES AND EVENTS
In the 1940's B.M.E.S. supported "HOLIDAYS AT HOME" at Lister Park in Bradford.
1945 saw B.M.E.S. at the forefront in the forming of the NORTHERN ASSOCIATION OF MODEL ENGINEERS.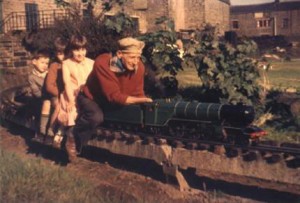 In the late 1940's our first permanent railway was built at Thackley, near Bradford, but after nearly 20 years, in 1966, agreement was reached with the then Shipley Council to relocate to our present home in Northcliffe Woods, Shipley.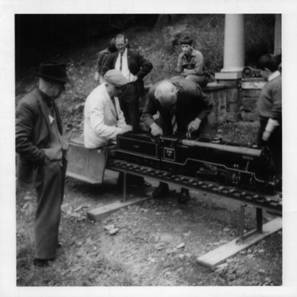 September 7th 1969 saw an Impressive 60 mile non stop run by a 5" gauge freelance locomotive called "Pamela" on the newly constructed track.
St. Georges Hall, Bradford was the venue in 1977 for a major model engineering exhibition which attracted many thousands of people.
Construction of a new plywood portable railway track in 1979 was a vast improvement on the old steel one. In the years following, a ground level 5" and 7¼" gauge track has been built.
2008 was our CENTENARY YEAR
THIS IS ONLY A VERY SHORT HISTORY OF B.M.E.S LONG MAY IT CONTINUE
Photo Archive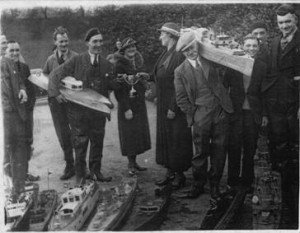 Very Early Model Boating Enthusiasts – Year Unknown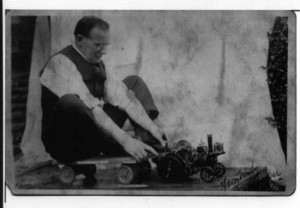 Amos Barber with his Traction engine which appeared on Television in 1937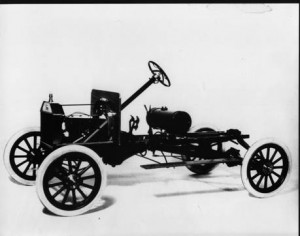 Model T Ford