Friends of Northcliffe – Easter Event 2012
Saturday 7th April 2012 – 12:00-16:00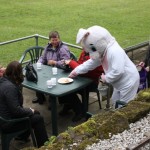 Northcliffe Railway
Well what a grand old day out. The Easter bunny has been very busy all day placing eggs around the woods with flocks of children searching for them. There were also lots of other activities they could get involved in.
The railways were kept very busy with a steady queue all afternoon. We also had two recently completed loco's making their public debuts, 'AMOS' the Club loco fresh from the paint shop and Paul Whitfield's new 'Hunslet Badger'. Both performed very well along with David Brimacombe's 'Molegasser' and Keith Parkinson's Class 25. On the raised track we had Ken Shipley's B1, John Hawkes with his Simplex and John Mills' 'Lion'. Mick Gray also had several stationary engines on display and running.
Thankyou to everyone who came and helped out today either in the kitchen, driving, guards, station staff or just being there and helping the public and making the event happen. What a great start to the season.
Many thanks, Russ.
Comments